I recently read a post which picked up a humourous (but offensive) result returned by Google Search via the sitelinks feature.
I thought I'd check it out to see if it had been fixed, either by Urban Dictionary or by Google themselves. However, when I tried the search, I didn't get any sitelinks at all. Instead, I saw something I'd never seen before: a search box, embedded in the search results!
A picture says a thousand words, so here it is: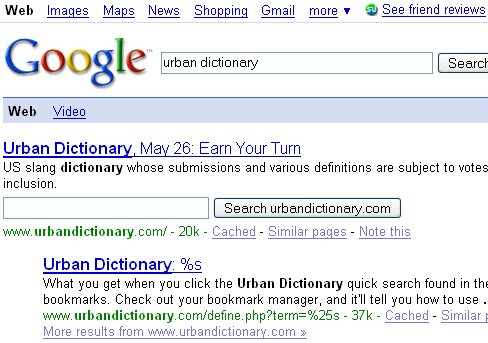 Using the embedded search box performs a Google Search only on the site in question (in this case Urban Dictionary). The results are the same as if you had used the Google Search site feature in the normal search box.
For example, I typed "blogging" in the embedded search box and clicked the "Search urbandictionary.com" button and got the following results: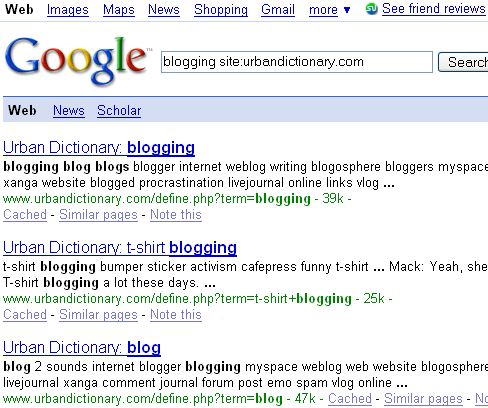 Note the "blogging site:urbandictionary.com" in the main search box. This indicates that the embedded search box simply performs a normal Google site search on the site in question.
I'm sure that other people out there have noticed this and blogged about it before me, but I've never heard of it or seen it before, so I figured it was worth writing about.
I guess this is a new feature Google has introduced to improve the usefulness of their search results. It probably won't add much value to experienced users who could just use the Google Search site feature, but it may be useful for the average user who doesn't know how to use this.