As a followup to my announcement of the new FeedEntryHeader plugin, I thought I'd share a screenshot of it in action. Predictably, the announcement post was scraped within minutes of me publishing it. Here is what the output looks like on the splog.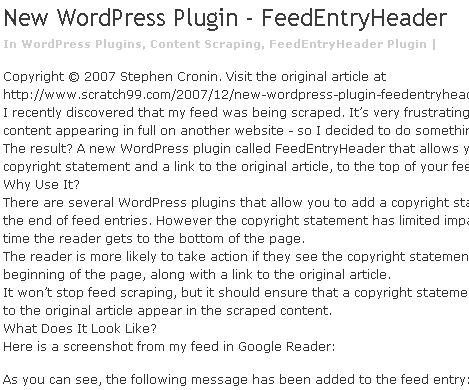 As you can see, the links have been stripped, but the URL remains. Hopefully anyone reading this page will work out that they aren't viewing the original article and copy and paste the URL into the browser to read the original.
It's also worth noting that all formatting has been removed, as have been the images. If you are reading a post that looks like this, you should be able to recognise it as a splog even if there is no copyright statement.
Marking Splog Trackbacks As Spam
In the comments of the previous post, Jonathon mentions that he is receiving trackback from the splogs. If you get such trackbacks, mark them as spam. It's very important you do this.
If enough people mark trackbacks from a particular splog as spam, Askimet will start marking all trackbacks from that splog as spam automatically.
If you leave such trackbacks in place you may be passing PageRank to the splog. One of the reasons that we are fighting a losing battle is because of the vast number of links such splogs get.
Many of the original authors get a trackback, but don't realise it's from a splog because they don't follow it. If you don't follow all your trackbacks, you won't know if someone is writing something nice about you, or scraping you.
Digital Fingerprint
Someone asked me why I couldn't use the Digital Fingerprint plugin instead. I looked at Digital Fingerprint before writing FeedEntryHeader. I haven't used it, but it seems to be a great idea and I recommend you check it out. However, it's purpose differs from what I wanted FeedEntryHeader to do.
Digital Fingerprint's purpose is to track who's scraping your content, while FeedEntryHeader's purpose is to redirect readers back to your site.
The idea behind Digital Fingerprint is that it inserts a 'fingerprint' into your feed, so that later you can search for pages that contain this fingerprint. This should let you find any splogs who have scraped your  post. The fingerprint needs to be unique (ie won't appear anywhere else on the Internet).
It seems to be possible to use a copyright message as the digital fingerprint, but it would have to be generic (ie the same for all posts). There's no ability to display the post URL, which makes sense – after all, you want to do one search to find the scraped content, not a different search for each post.
The strength of FeedEntryHeader is the fact that it includes the URL back to the original post. The idea is that users will see the copyright statement before they read the article, work out what's going on and use the URL to visit your site to read the original post.
There are other plugins that do something similar in the footer. That's too late. There's less chance the reader will visit your site if they've already read the post. Also, some splogs chop the bottom of the post off.
Anyway, FeedEntryHeader and Digital Fingerprint have different purposes, both of them worthwhile. Although I haven't tried it yet, I see no reason why they cannot be used together.