Today marks two years since I joined Envato. Those two years have disappeared in a whirlwind, with so much happening in that time. I decided to pause for a moment, to look back at some of the highs and the lows.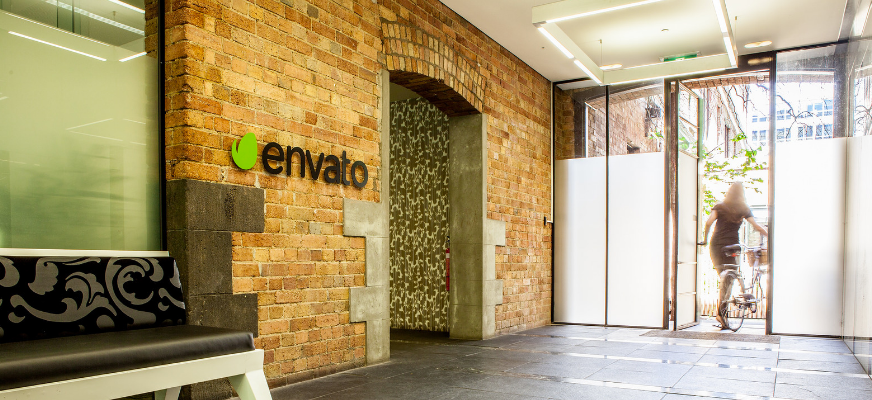 *Photo blatantly 'borrowed' from Envato's website
I've been really happy in my job and there have been many highs, including:
Working for an awesome company. Envato has great values and it lives by them. I've seen big decisions made that were true to those values, rather than being best for the bottom line. Envato also does a lot around diversity and inclusiveness, both internally and externally and is just generally cool. I'm proud to work at Envato.
Working with great people! Every single person I've met within the company is great and they are always willing to help out. It's lead from the top – Collis is far more open, approachable and humble than any CEO has a right to be – and goes right through the company. I want to give a special mention to the ThemeForest and CodeCanyon reviewers, a super passionate bunch who I work with day in and day out. Their job is not an easy one and they don't get much appreciation from anyone outside the company, but they put their heart and their soul into it.
The job itself, which I love. I've been able to work on some truly challenging issues that impact a large portion of the Internet. I'm really appreciative of that opportunity. Also, I'm never, ever, bored. There always some new challenge being thrown at us.
Being able to attend events overseas, which has without a doubt been an enormous highlight. I've been lucky enough to attend the last WordCamp San Francisco, the first WordCamp US and Pressnomics 3 & 4. That's given me the chance to meet so many awesome people that I knew of online, but would never have met otherwise. Great people, great times!
My work being more closely aligned with my passions, specifically WordPress, than my previous job. I do miss working on some of the other web disciplines (content strategy, SEO, analytics, usability, etc), but absolutely no regrets on this!
Working from home, which has given me more flexibility to be there for my family. There is a trade-off in that I'm away some of the time, but all things considered, I'd make that trade-off any day. I'm actually far more present in their lives than when I used to catch the train to the city in the morning and get back just before their bed time.
Of course, there have been lows too:
Large security issues. There have been others, but the Slider Revolution one was the first and wow, that was intense. There were a lot of challenges to work through in a short time and a lot of focus on us while we were doing it. In some ways, the experience of working on the problem was a positive: I like challenges and we had a great team working on it; but because of the effect it had on so many people, it has to be a huge negative. I will say the author, ThemePunch, were great to work with in very trying circumstances.
The limited amount of change I've been able to affect. I came into Envato with a list of things I wanted to address and a load of ideas, but many of these never came to light. I hadn't anticipated the volume of urgent and complex issues that come up as part of everyday business. These need to be dealt with, which takes attention away from the projects I'd like to see happen. I've had to be largely reactive, rather than proactive, in my role. The good news is that this has been recognised and there are plans to address this.
Not being able to speak at or organise WordCamps. I spoke at the first three WordCamps I attended and it came to be an important part of my self-identity. Sadly, WordCamp rules prevent Envato employees from speaking at WordCamps, or organising them, even if all of their WordPress products are 100% GPL (as mine are). I won't lie – that's been hard to take at times.

;_;

Side Projects: Unfortunately, most of my side projects have stalled or been severely limited. When I'm at my computer in the evening, I'm more likely to be tempted to work (because I enjoy it) or to keep up with what's going on in the WordPress world (which has been an unofficial part of my job until James Giroux joined us earlier this year). I'm trying to change this and to spend more time on my side projects. Maybe I'll even resurrect this blog. No promises on that though. 🙂
And there you go… I've probably missed some things, but all in all, I'm loving it and I'm looking forward to the next two years (or more!).